In the summer of 2017, 16 strangers travelled to Meghalaya together. When I say Meghalaya, I'm sure your mind goes to a strenous yet rewarding trek to Living roots bridge, a lazy boat ride in the clear Dawki river which lets you see the rocks sleeping in its depth, stunning waterfalls whose sight and sound both greet you in gushing goodbyes all through the state, green hill tops that fill up your eyes for as far as you can see and what not. But I'll instead tell you about a little game of "stapoo".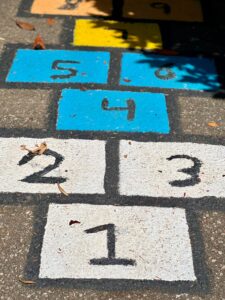 Our week in Meghalaya was exactly what I had dreamt about. We started in the cosy town of Shillong, overeating the local food and moving from, "Hi! Where are you from?" to discovering singing talents within the group. As our bus made its way to Cherrapunjee with music and dumb charades, we stopped over at Mawkdok Dympep valley to taste adventure but with a view; ziplining across 2600 ft. while suspended 1200 ft. high in the air, enveloped in a valley that was the shade of green from my childhood paintings. We bathed in mud as we spent an afternoon trying caving/cave exploration in the limestone caves near Cherapunjee. We trekked down 2400 ft, roughly 3500 stairs to reach the legendary Double Decker Living Roots Bridge. Of course, this was not at all exhausting (ahem!) because we chose to jump in a waterfall near it, to swim in the freezing cold water and trekked all the way back up! The week would be incomplete without mentioning the stunning waterfalls of the state. We jumped in so many of them that I felt compelled to say, move aside 'Beach Vacay', let's have a 'Waterfall Vacay!'. As I struggle to keep this concise, let's just say Meghalaya was magical – a picture postcard place to explore each day with a range of activities for adrenaline rush through those days. And yet, I wish to tell you about our little game of stapoo.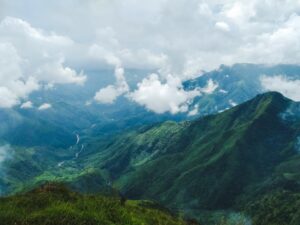 After the jam-packed week that it was, we found ourselves in the quaint little village of Mawlynnong on our last night. 3 of us were walking around the cleanest village in Asia and reminiscing childhood games – Kho Kho, Red Letter, Fire & Ice, etc. when I happened to mention Stapoo aka Hopscotch (you know the one with the boxes, the stone and the whole hopping on one leg!). Before I knew it, Saurabh picked up a stone and drew the boxes. Pooja picked up another stone and took the first turn. As the three of us were trying to remember the rules of the game between giggles, others from our bunch of 16 gradually started to join. Soon all of us were playing – 3 childhood friends meeting after a year, a couple that had been dating for 3 months, a mother in her 40s with her shy teenage boy and 9 of us who had come solo. The village kids gathered around us. Shy in the beginning they gradually came closer and even joined in on the mocking of players, giving high fives when someone tripped or fell! So, we asked them to join us but they didn't know the game and above that we didn't know a common language.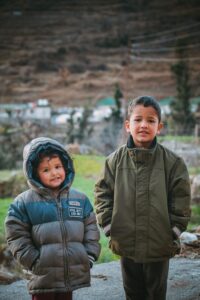 With broken words and goofy gestures we taught them the game which they quickly picked up as they'd been keenly observing us. From shy glances we reached open teasing, from awkward introductions we reached loud cheering with the kids – Baskhem – the group stud who wore his cap flipped back, Wolverine – I swear they called him that! And the sweetest Zoya who clung on to one end of her frock with her left hand the whole time. They played with us until their parents came looking for them. They bid us farewell saying "Bye!" – one of the few words we shared – and gathered the courage to hug us goodbye. So, there we were, 16 new friends across ages of 20 – 40years old laughing madly as we tried recreating a childhood game in the spic and span streets of a North eastern village with the warmest village kids showing us that gestures would always achieve what even languages may fail to.
Thus, whenever anyone asks me about Meghalaya, I tell them about its beauty, its green hills and astonishing waterfalls, its unexplainable bridges and picture-perfect landscapes, its clouds that hug you everywhere you go and its unexpectedly beautiful people. Travelling has always blessed me with the most beautiful conversations but you see it isn't always conversations that make the best memories. Its also a memory of friendship and laughter beyond a common tongue. It's also a memory of a little Zoya coming up to me to say goodbye, pointing at the Stapoo boxes and saying "Tomorrow!". It's the thought of her and her friends playing that game long after we were gone. It's all of that and more hopscotching through my heart.