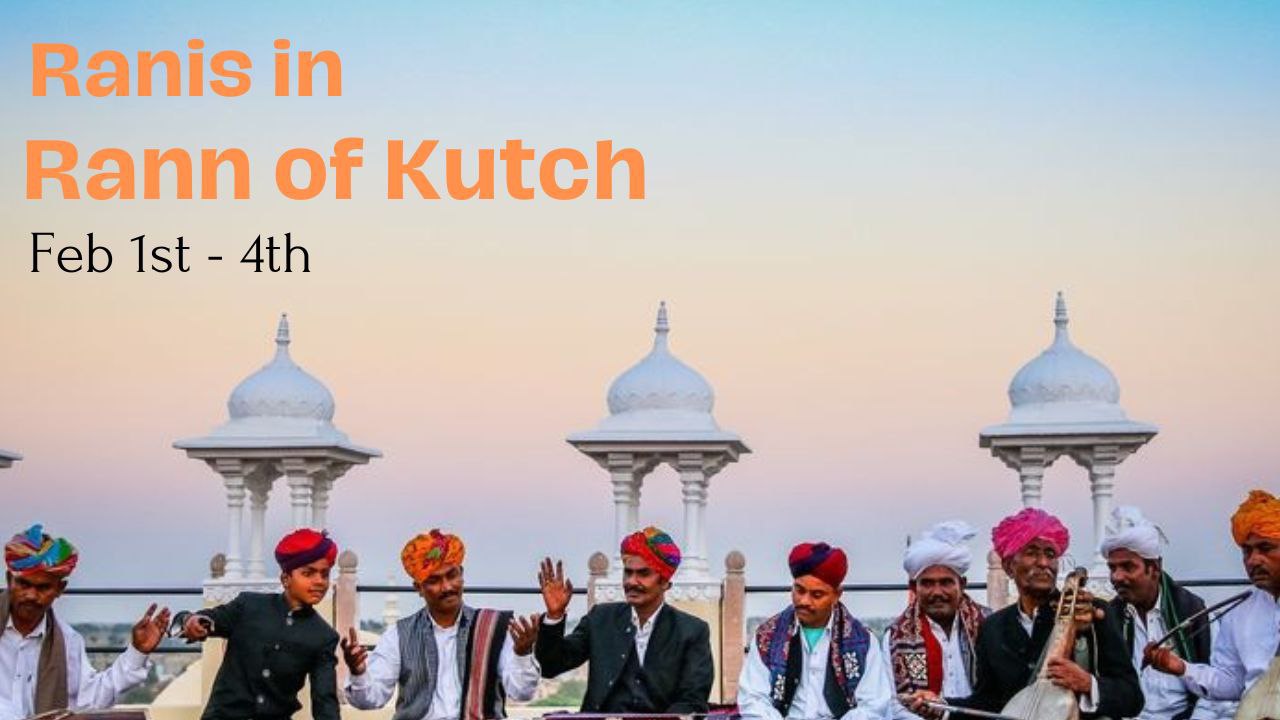 India is rich with many cultures and one such culture is that of the Kutchi people. This trip will have you witness their vibrant attires to folk music and dance. Above all, this trip will leave you awestruck with the land they hail from – the White Desert. Imagine standing on top of a sea made of all white sand. Yes, that's how magical this destination is to look at! It is after all the largest salt desert in the whole wide world!
Best part? In this trip you get to unleash your free spirit. Meet like minded ladies from your peer age group, have conversations and make friends. There'll be singing to dancing, laughter to games to help break the ice with your trip leader Neha (55 years) paving the way for all of your enjoyment as well as comfort. 
Rann is calling, are you ready to explore it as the rani that you are? 🙂
Feb 1st, Thursday: Land at Bhuj airport by or before 12pm and then board the magic bus!
Meet your gang, freshen up and let's head out? First stop, India Bridge – referred to as the
"last bridge of India" by many. You shall spot Rann of Kutch on one side and the white desert
on the other. From here, we'll whisk you to Rann's highest point – Kalo Dungar. It offers a
panoramic view of the Great Rann salt flat. Also, hear the mythological tale of Lord
Dattatreya as we pay our respects at Dutt temple atop these black hills. Evening, fun and
games with new friends back at the hotel. O/N Rann
Feb 2nd, Friday: Today, you are going to dive into the mysteries of history! Let's begin with
Dholavira – a UNESCO Heritage site which the southern centre of the Harappan Civilization!
The magic of Rann is how it transports you to another era and here we'll find ourselves
transported to almost 4,500 years ago at this site. Understand it better by checking out the
museum. Then comes the World Fossil Park where you get the unique experience of seeing
fossils within rocks. Crocodiles, turtles and other marine beings once lived here?!
Next, the moment you've been waiting for. Dholavira White Desert. Sigh. Catch your breath
because the beauty of this place is a marvel that will have you catch your breath. Welcome
to the largest salt desert in the world! The endless stretch of white sand makes this an
otherworldly sight. Come on, ladies, let's dress in our brightest and splash a pop of colour
here as we sing our hearts out and laugh merrily together. O/N Rann
Feb 3rd, Saturday: This morning we're befriending architecture as the glory and grandeur of
Aina Mahal and Prag Mahal. Glittering chandeliers to halls of mirrors await the visit of our
ranis! Let's also pay our respects at the Swami Narayanan temple beautifully carved out of
marble. Let's make our last night together memorable with songs and conversations? 😀 O/N
Bhuj
Feb 4th, Sunday: Today morning we simply aren't ready to say goodbye, are we? No way!
But let's part with the promise of meeting again. Book a flight anytime after 8:30am from
Bhuj airport. Get back to your home city on a Sunday, to rest up and relish the trip memories
before kickstarting a new week.