tIRTHAN: MAR 4TH - 8TH, 2023
MOUNTAIN MAGIC IN TIRTHAN
Dates: Mar 4th, 2023 - Mar 8th, 2023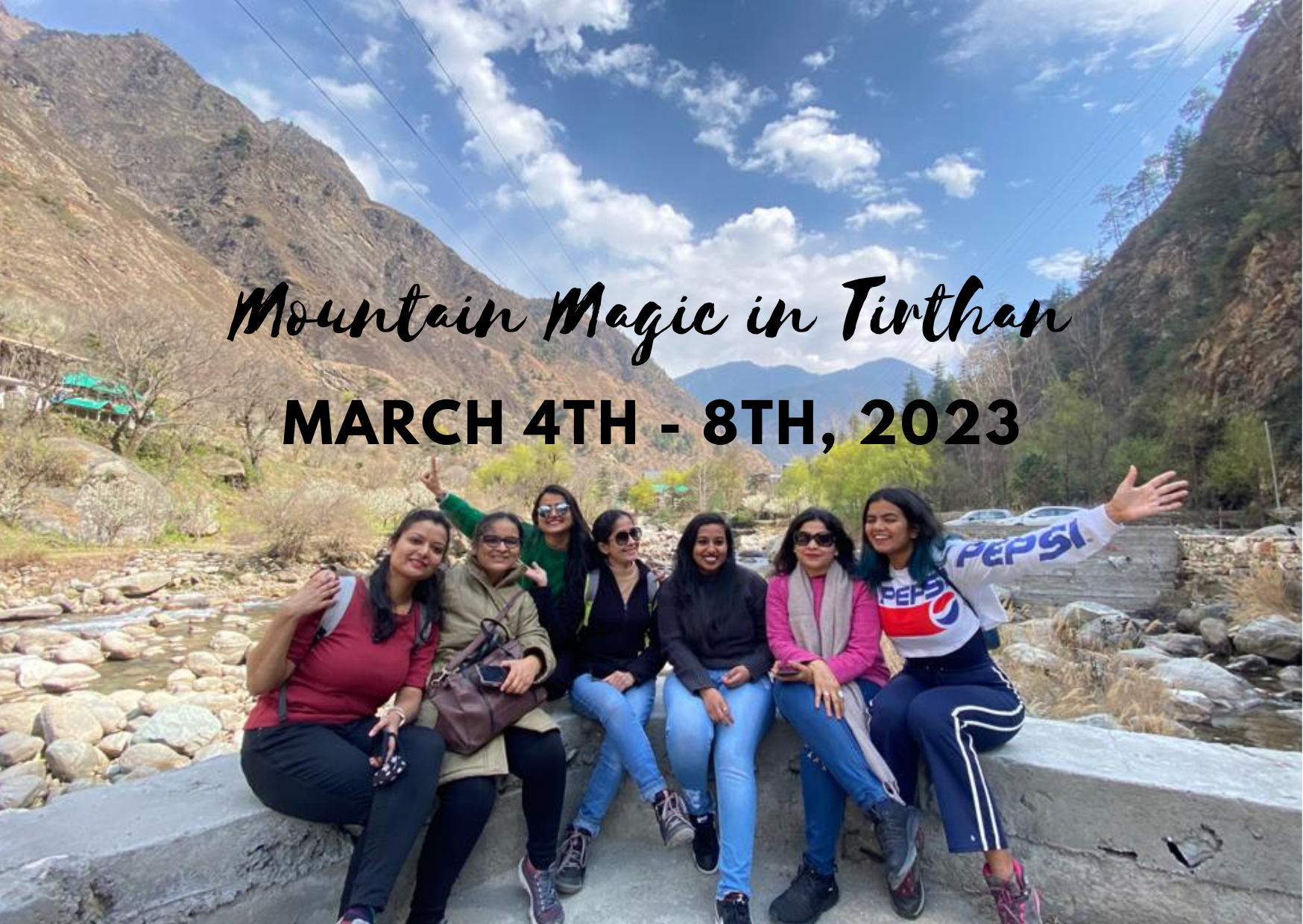 Tirthan has everything that you seek in a mountain escape!
We're going to be visiting Jalori Pass. There's going to be a trek to Seroslar Lake which is a picturesque body protected by tall towering trees. Slow down, gaze into your surroundings, listen to the quiet, converse with a new friend – this is the break you so needed. Next we will head to Chaini Kothi – one of the most ancient and tall structures of the region. From folklore to reverence, the visit will have you immerse into the village way of life.
And, of course, it wouldn't be a trip with us without an MM&Co. special! So, we're taking you to secret ponds where amidst rocky terrains you'll get to take a dip in strikingly blue waters. Water fights, dances and childhood games shall follow!
This trip is about taking the time to pet furry mountain doggos, to sit around bonfires singing your favourite songs, to let your thoughts flow into the river with our cosy riverside stay, to celebrate Holi in goofy ways just as you would as a kid, to meet strangers and make bonds and memories that you shall carry for a long long time.
The best part? You'll be home in time to rest well before resuming work. You need only 2 leaves at work for this trip. So, give yourself a treat, will you?
March 4th, Saturday: Land in Chandigarh by 7:30pm, reach the designated bus stop and then board the volvo bus for an overnight journey to Tirthan. O/N AC volvo bus
March 5th, Sunday: Arrive in Tirthan by morning. Freshen up and head to Jalori Pass. The drive will start to unfold the forests in front of your eyes. From Jalori Pass we shall commence our trek to Seroslar Lake. It is a beginner level trek and we shall make our way while breathing in the scent of pine trees and new friendships. En route relish some pahado waali Maggie and arrive at a strikingly pretty lake cocooned amidst dense forests. Seroslar is at an altitude of 10,170 ft., protected by the jungle and shrouded in mythological mystery. O/N Tirthan
March 6th, Monday: This morning we're going to take you to witness the Himachali village life. We're doing a short hike to Chaini Kothi – a historical tower that has for centuries been revered by the locals. It's one of the tallest ancient structures across the region! Interact with the locals, play a game with a kid, pet a furry dog – this is the escape that you needed from your city life. In season one can even spot some blossoms along the way, so, tell me, are you feeling lucky? 😉 O/N Tirthan
March 7th, Tuesday: Is it the last day already? Well, we are going to make it a power-packed one! Since it's chotti Holi we're going to be unleashing all the colours and playing with our new friends. Colours, water… eggs? Whoops, are you ready for the madness? :p
Next we're taking you to a secret pond (an MM&Co. special) – this offbeat gem is tucked between cave like structures and covers a deliciously blue pool of water! Unknown to many, we'll be spending some time here. Take a moment for yourself, maybe a water fight may erupt, maybe there's we'll break into dance! It's your last day, live every moment of it.
Evening, we hop on a volvo back to Chandigarh. March 8th, Wednesday: Catch your flight to your home city any time after 8am(flight details at the end). You're back home in time to be well rested before resuming work next day! Hugs and goodbyes with the promise of meeting again soon.