ULTIMATE EURO TRIP: SPAIN & PORTUGAL
Europe on your mind? Time to tick it off your bucket list! Your very own Zindagi Na Milegi Dobara trip is here. A dreamlike Euro trip will wow you with its abundance of amazing attractions, whether you are a nature lover, an adventurer, or an aqua lover. So, don't miss out on the opportunity to experience the jaw-dropping beauty of Spain and Portugal with us.
Trip Dates: Sep 2nd – 13th
Destinations: Spain & Portugal
What's in store?
– The famous Sagrada Familia
– World's top DJs in Ibiza
– A movie like set in real life: Alfama in Lisbon
– A chance to say, "Senorita" at a flamenco show
– Feast on authentic tapas
– Walk in the artistic town squares of Madrid
– Visit castles and towers that you thought exist only in Disney in real life
– Do it all with a gang of new friends! And, soo much more. Guess what? We're providing you with:
– Quality backpacker stays
– An experienced visa agent
– All internal flights included in package!
And, beyond.
Check out the detailed itinerary to start planning your epic Spanish adventure with us!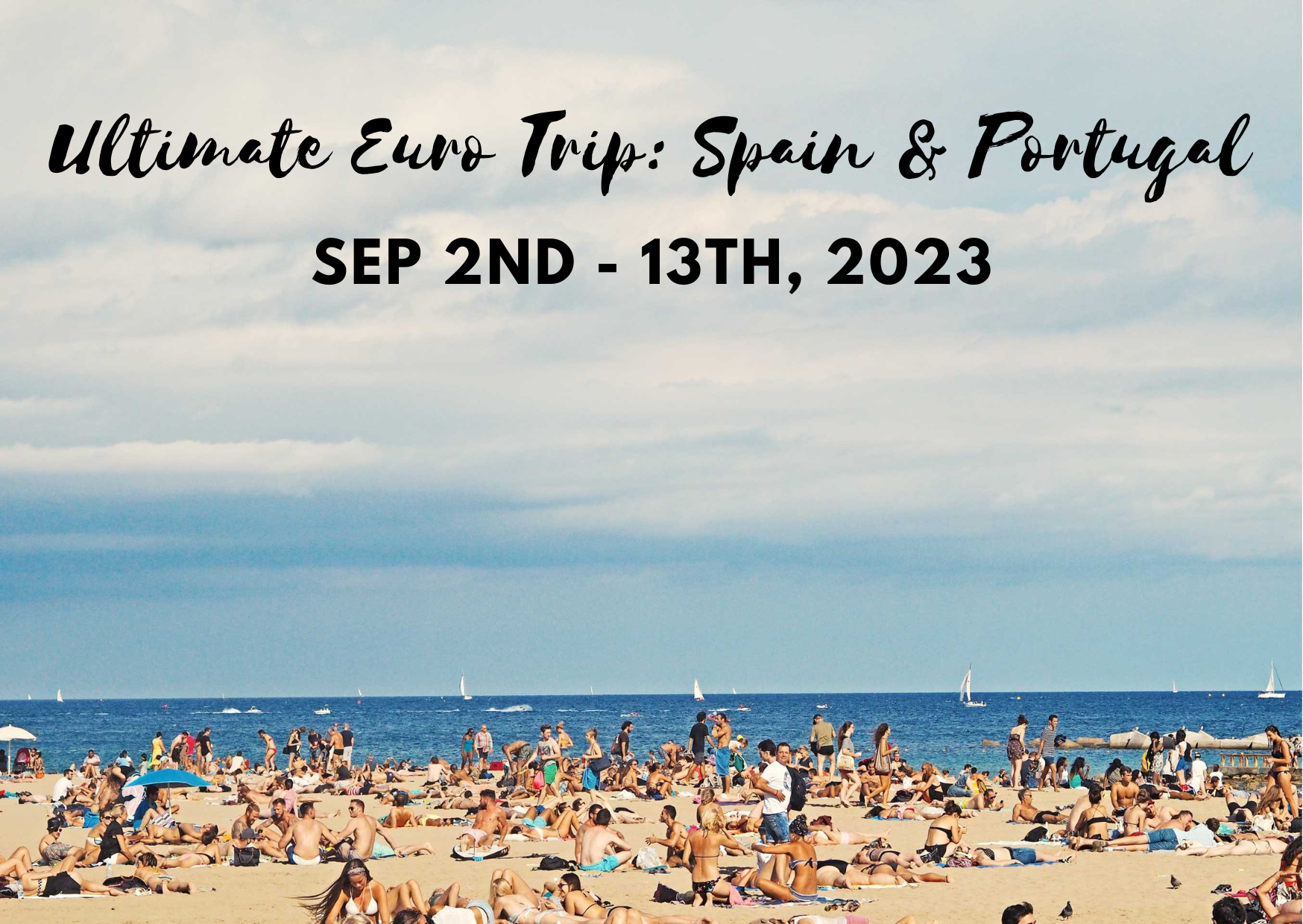 Sep 2nd: Land at Barcelona airport. Make your way to the hostel. Get some rest post that flight. Evening, it's time to experience the Spanish night life! Hola amigos, you're in Barcelona. What would the evening be without us walking in the streets of La Rambla, checking out the art, the pumps and sinking in that air? Your European adventure has just begun! O/N Barcelona
Sep 3rd: Today, you are going to be amazed! We are headed to explore the city of Barcelona and of course, we must do it in our own unique way. Presenting a city cycling tour! The charm of Barcelona lies in its unique architecture and vibe, that's how you know you're saath samundar paar in a continent that you've dreamed off. So, we're going to cycle about the Plaza Real, Gothic Quarter, Casa Batlló, La Pedrera, Barceloneta and Olympic Port. Soak in the sights and enter a postcard. Evening, optional flamenco tour to watch the vigorous and scintillating dance form. They say that performances are so enthralling that you can't look away. You can even opt to take walks with your new friends to let yourself wander as a free spirit. O/N Barcelona
Sep 4th: It wouldn't be a trip to Barcelona without a visit to Sagrada Familia, would it? The iconic 1880s church is almost synonymous to the city. We'll have a guided tour to understand what sets it apart. And, better yet, we're getting you access to the tower! You know what that means? You get a top shot panoramic view… of the whole city! Evening presents the chance of hitting a beach or feasting upon some much loved Spanish tapas. If you love football you can even opt for a visit of Camp Nou – home to FC Barcelona! O/N Barcelona
Sep 5th: This morning you're going to ask your fellow trippers to pinch you. Why? We're fulfilling a lifelong dream of many. Oh, yes, people, we're going to Ibizaaaa! A private vehicle will transfer us to the airport where we board our flight for the island. Upon our arrival you're going to be amazed by the stunning blue waters of this archipelago. So, get, set for a water fight! At night, it's time to groove as we hit the town. Remember, "what happens in Ibiza, stays in Ibiza" 😉 O/N Ibiza
Sep 6th: The mind races in many directions when you hear the name Ibiza. So, we're offering you a day to explore it in your way! Those who love the luxurious life can head for an optional boat party – a boat with a DJ, drinks and travellers from around the world looking to have a good time 😀 Meanwhile, if you like a slow laidback vacation you can explore some lesser crowded beaches, some cozy villages and let Mother Nature wow you with her beauty. Evening, we shall hit the clubs to dance the night away with some world famous DJs! O/N Ibiza
Sep 7th: Did you think we'd bring you all the way to Ibiza without showing you something special? No way. We've got a tour planned for you that'll take us to Ibiza Castle and Old Town, Dalt Vila. The high city overlooks the water and boasts of a history of 2,500 years. Walk amidst the beautiful churches, medieval castles, white streets in the town's full glory. Tonight, let's sit by the waves at night and share a secret or two? Converse with your new friends and make memories too. O/N Ibiza
Sep 8th: New day, new destination? It's time for Madrid, baby! A private vehicle will lead us to the airport and then we're flying to Madrid. Known as a haven of culture your time in the city is meant to gallivant across open squares, to witness stunning Latin American and Spanish art, to enter the 18th century and it's fusion with the modern world. So, are you ready?? O/N Madrid
Sep 9th: Bring out your chique outfits cause you're going to want to get clicked today! We're visiting Toledo – the former capital. A melting pot of cultures here you'll find mosques opposite churches, museums and galleries to Instagram worthy synagogues and mouthwatering food. What's not to love? Whether you love the gram or are a curious kid wanting to discover a new world, this town will tickle both the urges! In the evening, foodies can go for a meal at the world's oldest restaurant, movie buffs can watch a flick at Europe's largest drive in cinema, the curious ones can visit a unique looking Egyptian temple; you are simply spoilt for choice! O/N Madrid
Sep 10th: Someone's going to be super duper excited today cause we're headed to country number two – Portugal! Board the flight and let us take you away to Lisbon. The capital of Portugal is a coastal city with picturesque pastel buildings from the colonial era. We're quite literally going to find ourselves walking into a fairytale set from our childhood. The night is for spending time with your new friends while you lend an ear to Fado music that the town is known for. O/N Lisbon
Sep 11th: Who's ready to immerse in the scenic aura of Lisbon? We're going to take you to the best of the best – Alfama which is perched prettily to play home to cathedrals, red roofs, the gorgeous Tagus river and more. We'll be visiting Castelo De S.Jorge (St. George's Castle) – an 8th century castle located on top of a hill offering you a breathtaking bird's eye view of the town! We return by evening and well, who's in the mood for a pub crawl?! O/N Lisbon
Sep 12th: Wait. The last day is already here?? Well, we want you to indulge yourself in the best way possible! This free day is meant for you to make the most of your holiday in your own way. Those charmed by architecture and history can make a trip to Sintra, Cascais, Pena Palace and Cabo Da Roca; the ones who've been relishing the cuisine can take a food tour and of course, take out some time to get some souvenirs for your loved ones back home – shopping! Since it's the last night, let's get dressed in our best and paint the town red together! A lot of hugs, lot of dancing, lot of chats, this night is about the gang you've spent these 10 epic days with. O/N Lisbon
Sep 13th: Time to fly back to our home cities. And, while the heart is not at all ready to go, we'll bid farewell to each other knowing that somewhere our laughter, our madness, our emotions will continue to live together in our hearts and in the streets of Spain and Portugal.