"How subtle is the relationship between the traveller and his luggage! He knows, as no one else knows, its idiosyncrasies, its contents … and always some small nuisance which he wishes he had not brought; had known, indeed, before starting that he would regret it, but brought it all the same." ~ Vita Sackville-West
When it comes to travelling, all of us become an over-packer and want to take almost six extra outfits <3, tons of skincare and your comfort daily things. So here are some packing hacks to make your travel easier and to solve the problem of your excess baggage.
Airlines allow you to carry a pillow with you on the flight which is not a part of your hand luggage. Instead of the pillow, fill the cushion cover with your tees, socks, "the extra outfits you want to carry." This hack allows to you to enjoy the comfort of a pillow along with your clothes <3
One pair of shoes are required. Casual shoes that are cosy. Put them on. Do not pack them. Shoes weigh a lot and occupy a lot of room. With just that one pair of shoes, you can travel a startling distance.

Picture Credits: FreshSplash

To minimise room in a suitcase, always fold up your clothing.
Shampoo and shower gel can be packed in travel-sized bottles, which are available at any general store. In your cabin luggage, keep additional zip-lock bags.
Pack your socks inside of your shoes to conserve space. Try to cram as many pairs as you can into each shoe.
Wear as many pockets-containing items as you can when getting ready for your travel day. Your luggage will take up less room if you use pockets to store accessories or tiny pieces of clothing.

Picture Credit: AleksandarNakic

Use of Comprehension cubes and bags: Although compression-technology packing cubes are a common travel item, they'll not only help you stay organised but also free up space in your luggage.
The Vacuum hack: Put your clothes in a bin bag and your vacuum's nozzle should be covered by the bag. The hoover will completely remove the air, up to 4 times the size reduction!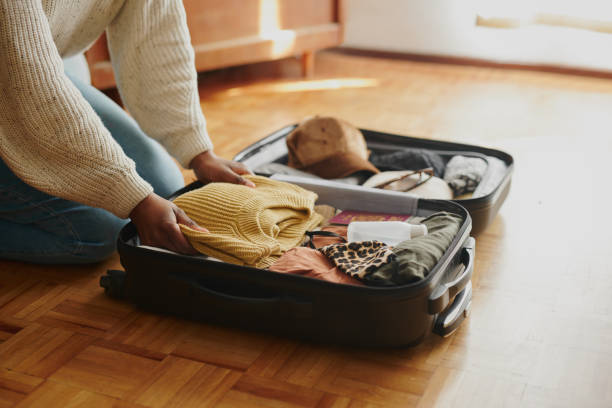 Well, if we must carry baggage (and, ahem, we are all carrying some in life 😉 ) hopefully the above hacks help you carry them with ease!
Do you have some packing tricks of your own? Tell us in the comments.