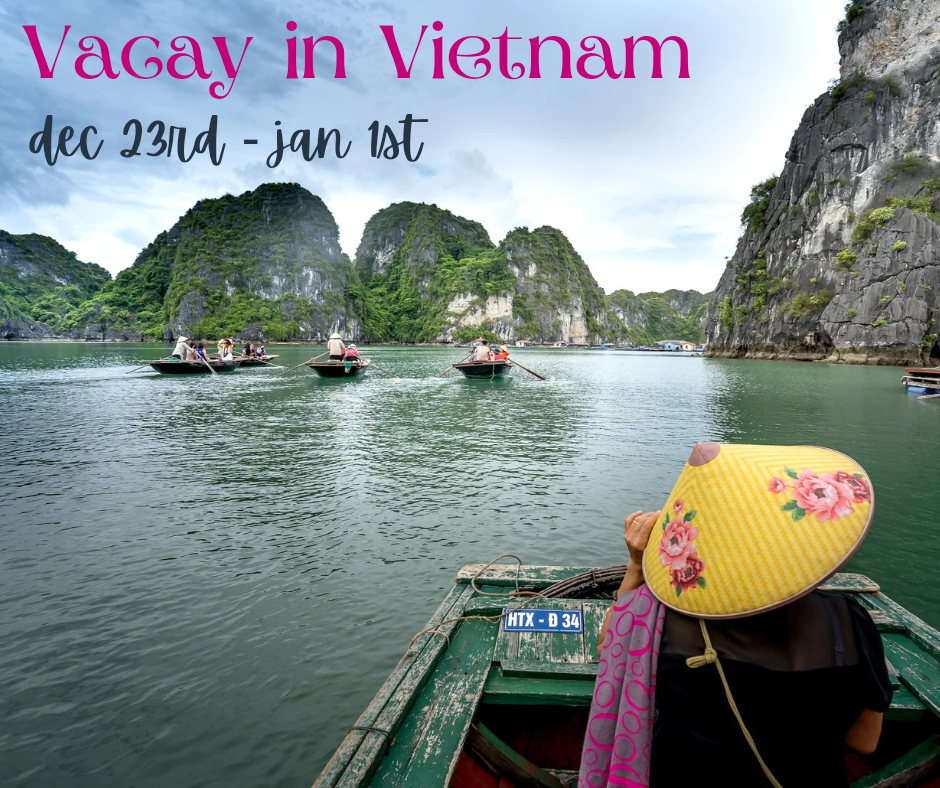 Nature, architecture, childlike fun to old soul dreaminess, this trip has it all! We start off at Ho Chi Minh City where the mind boggling history from the Vietnamese war against the French awaits us. Then we proceed to Da Lat – a growing destination where not many Indian travel groups venture but you know we like bringing you something extra, don't you? 😉 So, guess what? We're taking you on Southeast Asia's longest alpine coaster! And, you get to maneuver it with your own hands. Crazyyyy, right? Then we'll even go on a train ride on a railway line from the 1930s, let's get transported into another era and sink in those quiet moments for our souls.
Dec 23rd, Saturday: Land at Ho Chi Minh City by or before 10:30am. Meet the gang and set off to
Cu Chi Tunnels – 60kms long complex underground tunnels built during the war against the French.
Come evening check out the lively Bui Vien street or Walking Street! O/N Ho Chi Minh City
Dec 24th, Sunday: Today, we're going to Dalat, a charming countryside known as the flower town!
The bus drive to Dalat is for singing and chatting away. First head to Datanla Waterfall. Ready to
ride Southeast Asia's longest alpine coaster?! Squeal as you try different adventures here. Come
evening, let's split into teams see who makes it to the top first at the unique Maze Cafe?! O/N Dalat
Dec 25th, Monday: While everyone visits the cafe next to a train track, we wanted to do one better.
How about riding a train that dates back to 1938? In an MM&Co. special we're going to indulge in
the slow life by taking a leisurely train ride. Next, visit the Truc Lam monastery and lake, tucked away
inside a pretty forest. Check out the colourful market and board the overnight bus to Hoi An. O/N
bus journey
Dec 26th, Tuesday: I know it's not right to have favourites but eeep we're in Hoi An – the lantern
town of the world! Rest up and relish a free day. Walk around in markets, take a boat ride, leave a
lantern floating in the waters, sip on drinks in vintage cafes, get a dress stitched in 24 hours, listen
to a musician. Ah, we're going to immerse in otherworldly charm. O/N Hoi An
Dec 27th, Wednesday: Would it really be a trip to Vietnam without the famous coconut boat ride?
Sink into the aura of the Cam Thanh Coconut Village where 4 rivers merge into intricate canals,
where we'll take a basket boat ride surrounded by palm forests and gardens. Later, optional lantern
making class to get a special souvenir to take back a piece of Vietnam with you. Also, let's hit the
beaaach and splash about in the evening! O/N Hoi An
Dec 28th, Thursday: I scream, you scream, we all scream for… a theme park! A cable car ride will
lead us to the famous Golden Hands Bridge. Thereafter, we spend an entire day going on rides,
witnessing quirky structures, art installations and beyond at the much loved Ba Na Hills. Evening, fly
into Hanoi. O/N Hanoi
Dec 29th, Friday: This might be the day you've been longing for, time to say hello to Halong Bay! A
day on a cruise will have us gazing at the scenery of limestone caves and rainforests. Folklores talk
about dragons that spat jewels, leading to the jade green waters that glisten here today. Hop on a
kayak and explore the mysteries of this region. Evening, hit the pub street! O/N Hanoi
Dec 30th, Saturday: Transfer to Ninh Binh. Rice fields with rivers, ancient pagodas and stretches of
green, this place looks like a dream. Visit Mua Caves – the Great Wall of Vietnam! It's a towering
structure where we'll climb up the stairs to be left spellbound at the top as we witness Tam Coc
from a height offering a panoramic sight. O/N Ninh Binh
Dec 31st, Sunday: Morning starts with a visit to the intriguing Bich Dong Pagoda. Later, to make this
day memorable, we're taking you for a boat ride at Trang An. The visual of Ninh Binh comes to life,
let your eyes stare into your surroundings, let your mind make its new promises as the year comes to
end, share this moment with a new friend; could there be a better way to bid farewell to 2023?
Night, we partayyyy.
Jan 1st, Monday: Transfer to Hanoi airport. Fly out any time after 2pm.