MOUNTAINS TO BEACHES: MUNNAR - KUMARAKOM - VARKALA!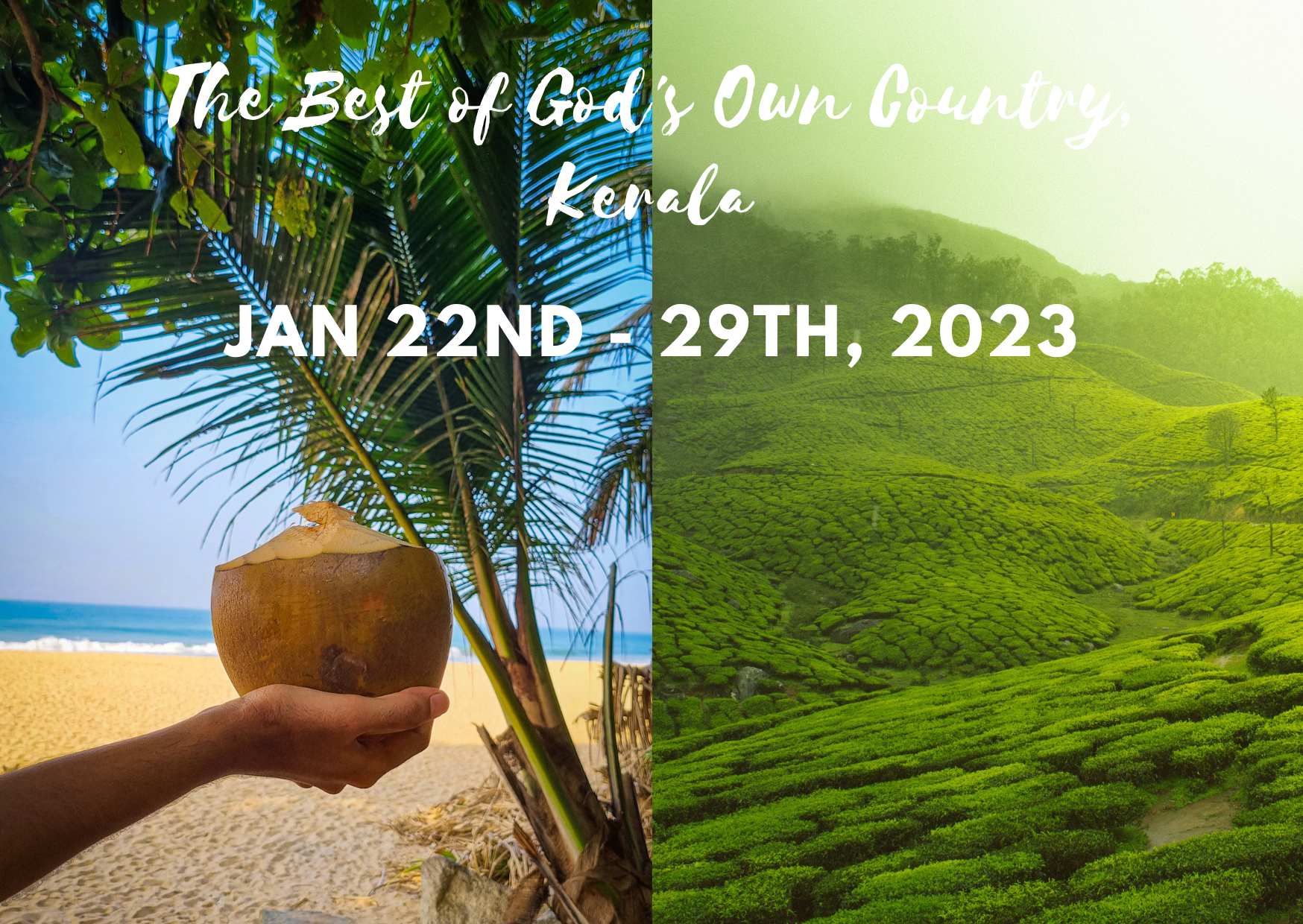 Mountains, beaches and Kerala backwaters all in one trip! Welcome to the most unique Kerala itinerary.
First, we make it to the mystical hill station of Munnar where we are going to sink into the greenery, the floating clouds and the sight of the tea plantations. A little adventure with a hike and a lot of fun with new friends are a promise.
From there we head to Kumarakom. It wouldn't be a trip to God's Own Country without visiting the backwaters, would it? So, come as we take you on a houseboat tour to a scenic sunset kayaking experience. Add to this a visit to a waterfall and we know you'll be squealing as well!
Lastly, we are headed to a beach destination that has on multiple occasions been voted as Asia's best beach cliff. Ladies and gentlemen, welcome to Varkala! Blue waves to pink sunsets, tropical meals and soft sands, breezy palm trees to a laidback beach town vibe, this is a place that you just won't get enough of.
Jan 22nd, Sunday: Land at Kochi airport by or before 12pm and then board the magic bus to make way to Munnar! Get to know your new gang of friends as we arrive at the misty hamlet of the town rich with tea plantations – Munnar. Freshen up and take a late evening walk as you hear the Muthirappuzhayar stream gushing below amidst the sight of these mountains! O/N Munnar
Jan 23rd, Monday: Today, you are going on an adventure! Throw on your shoes and trek to the Top Station – the erstwhile highest railway station of the region which today offers quite the panoramic view from the top. Post lunch, we shall visit the Kanan Devan Tea Estate – where we'll understand the history of tea, how it is made and where we'll unleash our inner SRKs between the rows and rows of absolutely scenic tea plantations. 😉 O/N Munnar
Jan 24th, Tuesday: It wouldn't be a trip to God's Own Country, Kerala, without a visit to the backwaters, would it? So, come let's make our way to the serene town of Kumarakam. We start in the morning to transfer from Munnar to Kumarakom. In the evening head for sunset kayaking (a Migrant Musings & Co. special)! Watch the rays play over the calm waters within the depths of the green forests. O/N Kumarakom
Jan 25th, Wednesday: This is one of the most exciting days! Experience the backwaters in the most authentic way – a day trip on a houseboat where the culture of Kerala, the views and the backdrop all come together to make quite the pretty picture. Next up, would it really be a trip to the mountains without making it to a waterfall? It's time to go splash around at Aruvikkuzhi Falls! O/N Kumarakom
Jan 26th, Thursday: It's time for our magic bus to arrive at a beach town that has been voted as one of the best cliff towns in all of Asia! After the drive, you're going to be amazed when you see the endless stretch of the sea. Because we simply can't keep calm, the evening is going to be about letting loose at the beach! O/N Varkala
Jan 27th, Friday: They say travel opens us up to new experiences, well, it's time to try surfing! Jump into the day with a beginner's surf lesson. Be cool as Baywatch dudes or get goofy and guffaw with laughter as we tumble, this is an adrenaline rush that you won't ever forget. Later, we shall drive to Edava Beach where a magical sunset shall be etched onto our memories forever. O/N Varkala
Jan 28th, Saturday: Before you head back home, we want you to sink into the vacation mode fully! So, use this free day to lounge at sea facing cafes or treat yourself to a massage, let out your inner shopaholic or take walks beside the cliff top. Come evening, let's have a maddd last night! O/N Varkala. Jan 29th, Sunday: Fly out of Trivandrum airport any time after 11am.