MOUNTAIN WONDERS OF : KASHMIR
Dates: DEC 25th - JAN 1st (NEW YEAR!)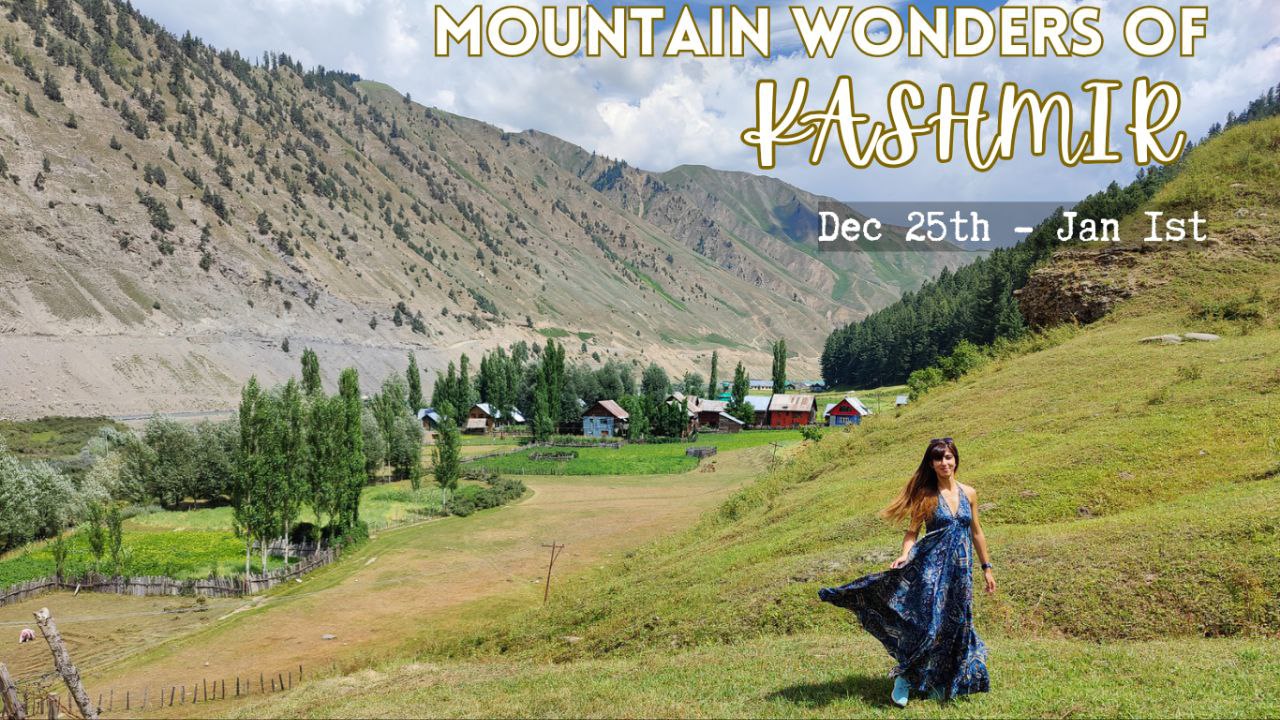 There is a reason why Kashmir has poems written on it, why sonnets of love are sung on it, why the land is said to be magical. Imagine pine trees with specs of snow covering them, imagine the Lidder River gushing with all its might, imagine pine cones fallen on the ground. Everywhere you look you see that Mother Nature is an artist. We'll be visiting the coveted town of Gulmarg. 
Take a ride on Asia's longest gondola ride! Get to stare out at a scenic valley. Make way to Pahalgam where you believe you have entered movie sets yourself. There's a slice of stream, rows of trees running wild and snow kissing tall towering mountains.
 Time to make a snowman! last but not the least is the olden era charm with a sunset ride on the pretty Dal Lake. Shop away to take home some Kashmiri goodies. Sprawling shawls to paper match boxes, all the while talking to making memories over cups of kahwa
Dec 25th,  Monday: Land at Srinagar airport by or before 12pm and then board the magic bus for
an unforgettable Christmas! To keep you comfortable we are staying in Srinagar itself today to let
you relax after your journey. Taste some authentic Kashmiri cuisine, go for a leisurely shikhara ride on
Dal Lake, sink into another era? O/N Srinagar
Dec 26th, Tuesday : Let's go to Pahalgam! Head to the scenic valley where Lidder river gushes.
kissing the pine trees to the wooden huts. En route a roadtrip to stop at Aharbal Falls (an MM&Co.
special) a stunningly blue waterfall decked with snow around it! Reach the hotel and take a late
evening walk, ready to dip your feet in the blue chilly water?! O/N Pahalgam
Dec 27th, Wednesday: Today, you are going to enter a postcard! We are headed to Betaab Valley
– named so after the hit 90s Bollywood film shot here. Shall we do a happy dance on the bridge?
Shall we challenge each other to a game of cricket? Unleash your inner child! Also visit Aru Valley
with a fun easy hike, baby! We'll cross horses and shepherds, have conversations and sing songs as
we reach the top for a hilly picnic. O/N Pahalgam
Dec 28th, Thursday: This morning you're going to wake up beaming because we're headed to
Gulmarg! And, what's a road trip without singing our hearts out, revealing our embarrassing playlists
and anecdotes as we arrive at Kashmir's crowned jewel. Who's ready to have a snow fight with their
new friends? Time to get, set, attack! O/N Gulmarg
Dec 29th, Friday: This is undoubtedly one of the most exciting days of the trip, we're going to watch
the majestic Apharwat Peak at a height of 14,403 ft.! We're going to take the longest gondola ride
in Asia (till the first point), a suspended cable car that lets your eyes gleam over a town laid in white
snow below you. Take a ski lesson, enjoy a sleigh ride or taste the thrill of snow cycling! Adventure's
calling and we must go! O/N Gulmarg
Dec 30th, Saturday: Some days are unforgettable. Such as the day you live on a houseboat! (a
Migrant Musings & Co. special). Yes, we are headed to Srinagar. Get yourself a souvenir to take
a memory back home at the markets, sink into a cup of kahwa, ahh feel that Kashmiri winter air hug
you. At night we shall sink into the Kashmiri way of life by residing on an authentic houseboat on the
offbeat Nigeen Lake (MM&Co. special) – a semi-frozen lake with mist hugging it. Come evening,
let's have a maddd last night! O/N Srinagar. O/N Srinagar
Dec 31st, Sunday: Let's end the year on a special note? Visit the glacier town of Sonmarg! The drive
itself is a joy and the meadows open up to offer breathtaking views. Try out a snowmobile ride or
make a snowman, bid 2022 farewell merrily. We all know that house parties are wayyy better than
crowded spaces, so, let's have a cozy celebration on our houseboat to mark the end of the year.
Happy newwww yearrrr, yaaro <3 O/N Srinagar
Jan 1st, Monday: Hugs and goodbyes until we meet again. Fly out of Srinagar airport any time after
9am.