CHASING ADRENALINE IN MEGHALAYA!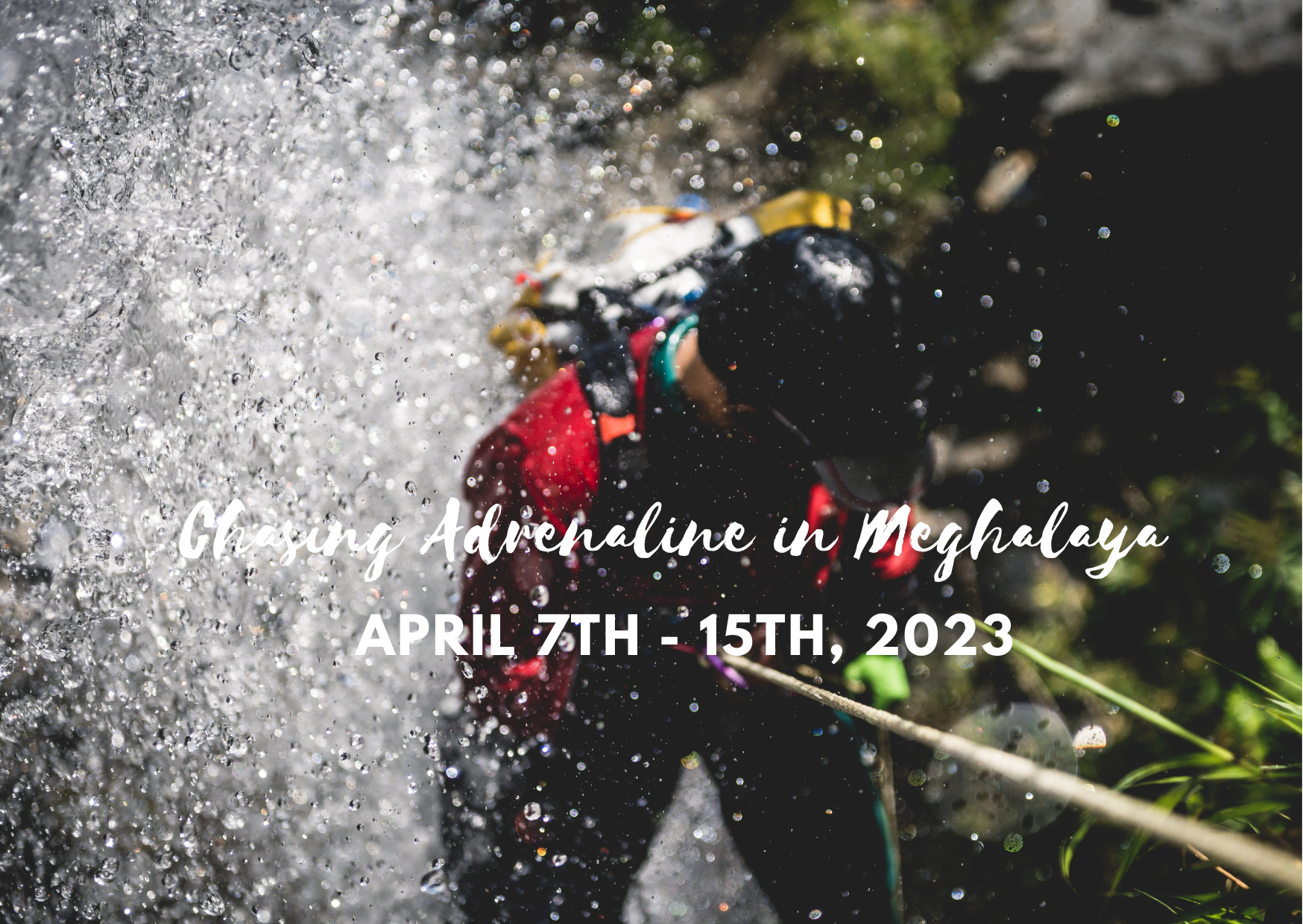 Epic adventure sports, offbeat waterfalls, views that you can't get enough and a rush of adrenaline soaring through your heart. Welcome to our unforgettable Meghalaya trip!
This trip is about staring into the clouds and sprawling views of Meghalaya, about splashing about in the water every chance we get, about dancing on the road to singing into the nights, about playing all sorts of games and getting silly, about sharing a side of ourselves that no one knows, about conversations and endless memories.
This is just a teaser of the power packed movie that you are about to star in! 😉 
April 7th, Friday: Land at Guwahati airport by or before 12pm and then board the magic bus to make way to Cherrapunjee. Get to know your new gang of friends as we head to our scenic stay – deemed as one of the best properties in all of Meghalaya! O/N Cherrapunjee
April 8th, Saturday: Today, you'll squeal with joy! We are headed to a deliciously gorgeous and super offbeat waterfall – Wei Sohphoh. Google it, you'll find hardly anything on it, we dare you ;). Trek upon a jungle trail to reach here. And, then it's splash time, baby. O/N Cherrapunjee
April 9th, Sunday: The name Meghalaya pops up some images in our wandering minds. Waterfalls, clouds and of course, the double decker living roots bridge. It's D-Day because we shall climb approximately 3,500 steps to arrive at this unique sight. The roots of rubber trees have cropped out to form a massive natural bridge – prepare to be amazed by nature! O/N Cherrapunjee
April 10th, Monday: Who's in the mood for a lazy day? Lounge about at our pretty property. Do you know there's even a small waterfall inside? Let's visit it. Plus, a small visit to a secret view point (MM&Co. special). Take leisurely walks, lay in the grass and stare at the endless skies, hum to the sounds of your heart, it's your vacation! O/N Cherrapunjee
April 11th, Tuesday: Undoubtedly one of the most exciting days. Witness the majestic Wei Sawdong waterfall! A three tier waterfall with the vision of the water cascading from one level to another into a blue green pool. Next, we're going to a secret waterfall. Explorers that we are, we'll trek to see the water plunge into a striking blue natural pond (MM&Co. special). O/N Cherrapunjee
April 12th, Wednesday: Some days are unforgettable. Such as the day you try caving at Arwah Caves. This will involve us crawling, crouching, pulling with our elbows amidst fossil formations that are millions of years old! O/N Cherrapunjee
April 13th, Thursday: Transfer to Shillong. Play games in the bus and sing out loud in the tempo. Also, we'll go for ziplining! With a firm harness you will zip across at a high speed with the lush green valley right below you. Reach Shillong by evening and let's head to a cozy cafe. O/N Shillong
April 14th, Friday: Save the best for the last? We sure did. We'll be driving to Mawlyngba where one of the coolest new adventure sports is waiting for you – river canyoneering! We'll trek, swim, rappel and move amidst river streams. Not only that, we're also going to do some cliff jumping! Since it's the last night, be prepared for a maddd one with your new friends. O/N Shillong
April 15th, Saturday: Transfer to Guwahati airport. Hugs and goodbyes until we meet again. Fly out any time after 1pm.