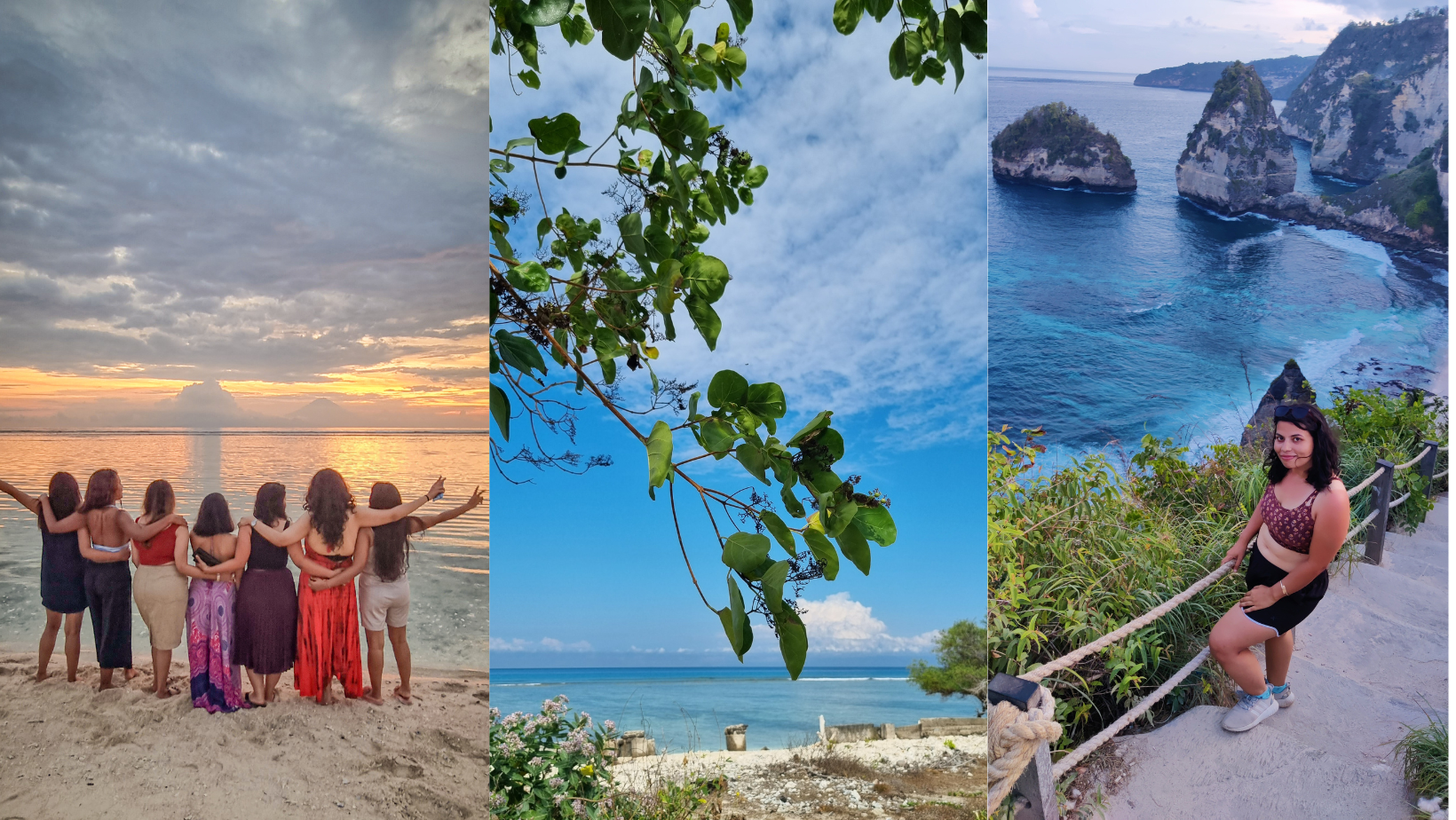 This trip has lotssss in store! In the mood for adventure? Well, we're taking you snorkelling at the ONLY place in all of Bali where you can snorkel with manta rays! We're trekking up an active volcano for a sunrise where clouds will seem to float below us. And, if you want more, where better to try scuba diving?
We're staying at not 1 but 2 islands. Andddd, we're staying in 4 star hotels! At Gili islands you'll experience the slow life of feeling the soft white sand on your feet, chilling, dancing and exploring with your new friends. And, at Nusa Penida island while most of the world does day trips we're staying for 2 whole nights! Get set to see a breathtaking cliff top and some of the prettiest beaches.
July 15th, Saturday: Land in Bali by 2pm. Transfer to our hotel where a new gang of friends, a delicious blue pool and the beach vacay of your dreams are waiting for you! Come evening we shall check out the vibrant Ubud markets followed by the thumping nightlife. O/N Ubud
July 16th, Sunday: Have you ever trekked up a volcano? Well, today is the day that you will! We're headed for an unforgettable sunrise at Mount Batur. In the evening, unleash your inner child as we go "wheee" upon the famous Bali swings! O/N Ubud
July 17th, Monday: Today, you're going to experience the right kind of Monday blues as we're catching a fast boat to taste the island life at the one and only Gili Trawangan. O/N Gili T
July 18th, Tuesday: Free day – jump into a thrilling adventure by going scuba diving! Or lay back, take leisurely beach walks, sip on a fruity drink and relish life on a beach. O/N Gili T
July 19th, Wednesday: Transfer to Kuta by boat. Feel the breeze in your hair at oour beach front property as you chill and gallivant about with your new gang of friends! O/N Kuta
July 20th, Thursday: Get ready to be stunned as we're going to stay at one of the prettiest islands ever, Nusa Penida! Post check in, we're taking a unique cliff hike to Kelingking beach, where the view will have you losing count of the different shades of blue. O/N Nusa Penida
July 21st, Friday: While most itineraries will have you visiting Nusa Penida only for a day, we know that it's so magnificent that "yeh dil maange more!', so, in a Migrant Musings & Co. special we're spending an extra day here! Who wants to go snorkelling and see some manta rays?! Later, head to Diamond beach and more. O/N Nusa Penida
July 22nd, Saturday: Pack your bags to head to Seminyak. Before we bid farewell to Bali, live up your last night at Seminyak, Bali's favourite party hub for backpackers! O/N Seminyak
July 23rd, Sunday: Big tight hugs as we say bye (for now). Fly out to your home city any time after 11am.