Dates: Dec 25th, 2022 - Jan 1st, 2023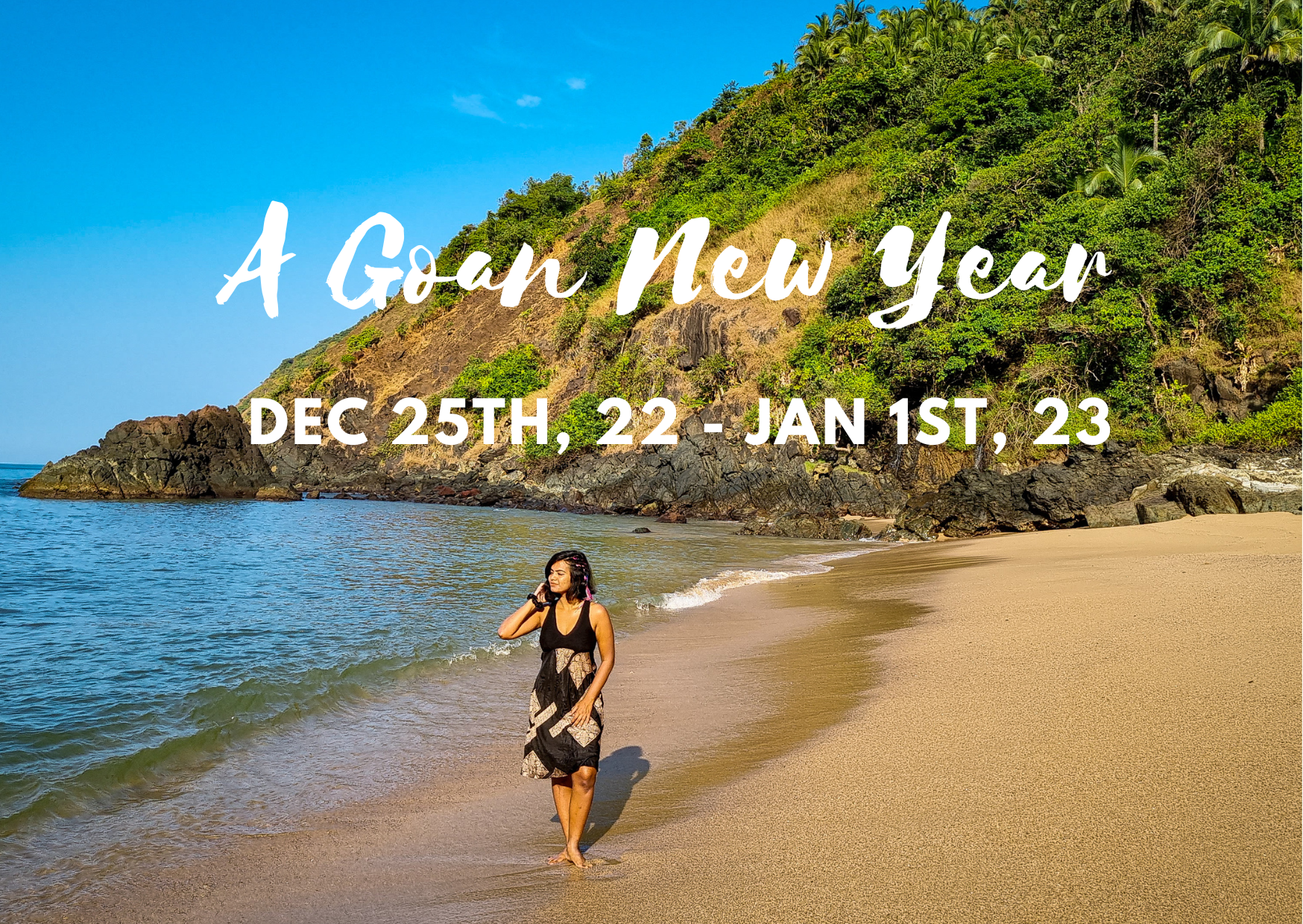 What's 3 letters, a whole lot of fun and a bucket full of memories? It's spelled as G O A. And, we're taking you there in a whole new way! With a beginner's surf lesson, cycling across quaint villages, exploring hidden beaches and more, you're going to bring in the new year in a Goa that very few experience!
We won't go to the overly popular Baga or Calangute but we'll splash about in the waves of Morjim, we'll wander upon sweetwater lakes and live like a hippie at Ashwem. And, you must have heard that South Goa is way prettier, well then we shall make you live at the prettiest of them all, Agonda beach. We'll be living in cute cottages surrounded by palm trees, so, sip on a fruity drink, sing a song and sink into the beach vacay you've been waiting for.
Dec 25th, Sunday: Land in Goa by 1pm. Head to our property in Vagator. Freshen up and set out to catch the sunset at a cafe in Vagator cliff! Let's make it a very Merry Christmas with the vibrant night life of North Goa. O/N Vagator
Dec 26th, Monday: Who's ready for some adventure?! Head to the hippie beach of Arambol and try surfing! Cool or clumsy but surely memorable this morning shall be! Water babies, also get set for a soothing swim as we jump into the sweet water lake bang opposite the beach.
Post lunch, head to Morjim. Splash in the waves, stroll on the beach sand with a new friend, have a conversation, share a laugh. Later tonight, be prepared to dance your hearts out, sing all the way and live the "what happens in Goa stays in Goa" night as we partaaay. O/N Vagator
Dec 27th, Tuesday: Because we love Goa in all its forms today experience the lesser seen side of it. Away from the thumping music, immerse into the Portuguese charm of Old Goa in Panjim. Our scooties are headed to the colourful Instagram worthy lane of Fontainhas – enter the era of 1800s. Thereafter, lunch at one of the most classic cafes of this town.
Wait a minute. Did a little birdie say we're headed to a riverside? Oh, yes, let's have ourselves a Dil Chahta moment of friends quietly gazing away, lost in thought, beside Ribandar. O/N Vagator
Dec 28th, Wednesday: Have a lazy start to the day and don't contain your excitement because we're headed to the oh so pretty, South Goa! Transfer to Agonda by late afternoon. Set out to explore Palolem beach with your new gang of friends. Later, let's have a pool party! O/N Agonda
Dec 29th, Thursday: Zip off to the unique Cola beach where the waves crash wildly on the front while the lagoon waters stay serene on the back. Next, kayaking! Come evening, we'll catch a magical sunset at Cabo De Rama followed by grooving to some acoustic live music. O/N Agonda
Dec 30th, Friday: Today morning try something that very few get to do in Goa – get on a cycle (optional) and explore some lesser visited villages. The heart of Goa that has stayed hidden is yours to meander through this morning. Followed by going to a secret beach. Even before you set foot on the beach, the stretch of blue waters you see will make your jaw drop. To protect this beach we'll keep the name a secret, you've to join us to explore it 😉 (a Migrant Musings & Co. special)
Dec 31st, Saturday: A free day to soak in the year 2022. Sit in a cute cafe, plonk on sun beds, get a massage, sip on a fruity drink, let the beach make you smile. The last of your vacation ought to be leisurely. At night we go cafe hopping to bring in the new yearrrrr! A beachy new year 😉 O/N Agonda
Jan 1st, 2023: Let's exchange our new year's resolutions before parting for your home cities after hugs and goodbyes with the promise of meeting again!